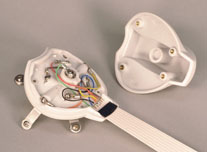 KiwiMill and our product design company, KiwiSeed, can assist you in the development of your ideas or inventions. We work with both individual inventors and larger companies such as Boeing and Fisher Price.
We can start with your rough idea – even a napkin drawing will do – and work with you to create a 3D drawing of your product. CAD drawings bring your idea to life on the screen, and can include animated assemblies of your design to show potential investors how your product functions. Changes in design can also be done on-screen, before a physical prototype is made, saving you money and time.
When it comes time for a prototype of your product, our model shop fabrications will provide a physical model for hand's on focus group assessments, industry testing and further design modifications. Our prototypes confirm to investors that your product does what it claims to do before heading to mass production.